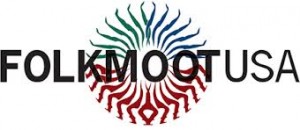 If you love local food with an international flare, then look no further than our friends at Folkmoot USA for flavor inspiration!
Every summer in Haywood County, locals & visitors alike can count on finding the juiciest heirloom tomatoes, ripe berries, farm-raised meats, colorful free-range eggs, gourmet jams, floral honey, crisp green beans and richly colored peppers—from sweet to super-spicy. 
In addition to farm-fresh products, July also brings the much anticipated international festival hosted by our friends at  Folkmoot USA.  Located in Waynesville, NC, Folkmoot USA plays host to the annual Folkmoot USA Festival which has received high acclaim as North Carolina's official international folklore festival.  2014 marks the 31st annual Folkmoot USA Festival that is celebrated for bringing together the world's many cultures through music and dance.
Over the years, Folkmoot USA has played host to over 200 groups from 100 different countries.  For a full listing of 2014 performances, ticketing information and events visit the Folkmoot USA website @ folkmootusa.org
In celebration of our friends at Folkmoot USA and their extraordinary contributions to our community (in areas of culture, arts and economic impact of the festival itself), we've written a recipe for Curried Zucchini Soup made with the freshest local in-season ingredients and an unexpected punch of exotic flavor!
—Tina Masciarelli, Buy Haywood Project Coordinator
Recipe courtesy of Alex Masciarelli,
Local Educator & Buy Haywood Volunteer
---
Visit our Online Directory for local ingredients!

Curried Zucchini Soup
 

Curried

Zucchini Soup
Ingredients
4-6 medium Zucchini, roughly chopped
1 Onion, roughly chopped
2 Carrots, peeled & roughly chopped
2 medium Potatoes, roughly chopped
1 clove of Garlic, roughly chopped
Corn Oil (or other neutral-flavored oil)
1/2 teaspoon Tumeric
1 teaspoon Curry powder
1/2 teaspoon Cumin
1/2 teaspoon Coriander
Pinch of Red Pepper Flakes
1/2 cup plain Greek yogurt
1/2-1 teaspoon Honey (optional)
Salt & Pepper
Water (can substitute chicken or vegetable stock)
Steps of Preparation
In a large stock pot, coat bottom with cooking oil.
Turn heat on medium, add the following:
Carrots, Onions, salt & pepper
Cook for 5 minutes, stirring ocassionally.
Add garlic and spices, cook for 1 minute – stirring.
Be careful not to burn garlic.
Add chopped potatoes and zucchini.
Stir well.  Cover vegetables with water.
Bring mixture to boil, reduce heat to low. Cover with a lid & cook for 15 minutes or until potatoes are tender.
Let cool slightly, in order to safely blend or puree.
Using an immersion blender, conventional blender or potato masher: puree the soup until desired texture.
Add Greek yogurt and mix well.
Taste for salt & pepper.  Add honey if desired.
Season to taste.
Serve warm with toasted croutons on the side.
Cook. Share. Enjoy!
---