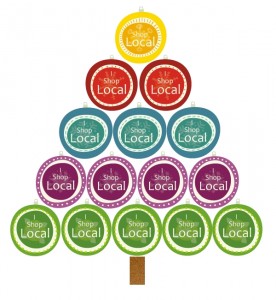 With Thanksgiving just around the corner, even the most frugal of shoppers can't help but think about the approaching holidays.  'Tis the season of sharing hearty meals with loved ones, lazy Sunday afternoons in front of the fire and experiencing childlike exhuberance over the first falling snowflakes.  This time of year can be downright dreamy.  Until…it dawns on you…that each passing week also brings the crazy maddening  phenomenon known as holiday shopping!
While I love the excitement on the faces of my loved ones as they open my carefully selected gifts.  I despise the traffic, trials and tribulations that can come with finding that "perfect something."
This year, take our
SHOP SMALL CHALLENGE
as an alternative to all that holiday madness!
Can you imagine a place where farmers grow hundreds of acres of fresh produce, graze cattle, raise shrubs, trees, herbs and bees—create dozens of value-added products like Peach Shine Jam & Rainbow Trout Caviar—while embodying the character of a rural community?  Welcome to our Haywood County!
Haywood County is home to a vibrant community of local independent businesses represented at farmers markets, farm-to-table restaurants, specialty shops and Christmas tree farms.
Shopping small on Saturday, November 29th, does not mean sacrificing selection or the price/quality equation.  Small Business Saturday is an opportunity for consumers to 'purchase with a purpose' by using their dollars to invest in the agricultural backbone of Haywood County.
While it is easy to be seduced by looking for the lowest price, don't assume that small businesses can't compete while also delivering a uniquely local product partnered with a warm hometown experience.
Think BIG and SHOP SMALL this holiday season! Take our Buy Local PLEDGE and support Buy Haywood's Uniquely Local partners at area farms, markets, specialty retailers, farm-to-table restaurants, and Christmas tree farms. Visit our web directory for a listing of Haywood County agripreneurs.
May your season be local, blessed and filled with many joys!
Tina Masciarelli, Buy Haywood Project Coordinator