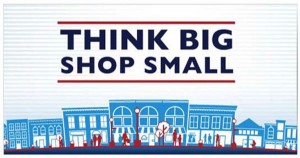 THINK BIG & SHOP SMALL this holiday season and ENTER TO WIN our #ShopSmall Contest. The prize is a Seasonal Pantry FULL-YEAR Membership from our Uniquely Local-Artisan Produced partners at Copper Pot & Wooden Spoon.

Join our efforts and 'purchase with a purpose' by using your holiday shopping dollars to invest in the agricultural backbone of Haywood County. Support of local agripreneurs keeps farms viable and preserves access to local products while protecting farmland and the rural character of the region.
Want to #ShopSmall in Haywood but not sure how to get started? Support Buy Haywood's Uniquely Local partners at area farms, markets, specialty retailers, farm-to-table restaurants, event venues, and Christmas tree farms. To get a list of our Uniquely Local partners, pick up one of our Find Your Adventure! 2015 Agritourism Guides or visit our web directory.
Enter the #ShopSmall Contest! Each time you shop small with one of our partners, leave a post on our Facebook page telling us the Uniquely Local partner you supported and automatically get entered to win! It is that simple… The more you shop, the more you post, the greater your chances of winning!
Want some #ShopSmall ideas? Visit our webpage where we list a few of the endless possibilities to help you get started.
Want to help us spread the word? Take our #ShopSmall Pledge and pass it on to others!