Want to SHOP

SMALL

this holiday season,
but don't know where to start?
Visit our Web Directory
for a complete list of Buy Haywood partners.
Below are some local ideas to help get you started!
---
Something for the history buff on your list?

Consider "Christmas Gift Donating" on behalf of the history buff on your list by donating to a local non-profit in their name.   Through your gift, your history lover can proudly claim ownership in preserving our rich agricultural heritage for generations to come!
Here are some Uniquely Local ideas:
Haywood Advancement Foundation in support of of Buy Haywood's outreach projects.  You can designate what program you wish to support, or earmark your gift to "general" which allows the team to allocate support to the program most in need for 2015.  All checks should be made payable to the Haywood Advancement Foundation with "Buy Haywood" in the memo line (and any desired project information for specific funding).  Mail gifts to Buy Haywood, c/o HAF, 28 Walnut Street Suite# 4, Waynesville NC  28786
Francis Mill in support of preservation efforts.  The working mill is listed on the national historic registry.  Visit their website for complete donor information.
---
What do you get for the art lover?

What about an original 8 x 16, oil on linen painting by renowned local artist, Jo Ridge Kelley?  Kelley has captured the rustic charm of "Danny's Barn," located in the historic Bethel community, beautifully using her signature techniques to infuse the original work with light, color, form and texture.
The art lover on your list will enjoy the beauty of rural Haywood County for decades to come with this treasure!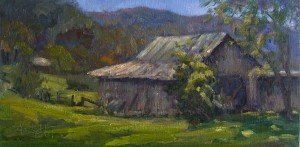 For purchasing information, visit Kelley's website
---
 What do you get for the foodie in your life?
Consider gift certificates from a handful of our Farm-to-Table partners filled with local flavor that keeps on giving throughout the season!  Your special someone can create their own "winter version" of our highly successful Uniquely Local Food Crawl.
CLICK HERE for crawl destination ideas!
Here is an example of a "Downtown Crawl" to tempt your palate:

Taste of Local at its Best
Haywood County is home to a vibrant community of agripreneurs who take the season's best farm products and turn them into unforgettable flavors!
Here are a few Uniquely Local— Artisan Produced options:
Chef Jessica DeMarco of Copper Pot & Wooden Spoon has a tremendous selection of award-winning handcrafted items including jams, jellies, savory spreads and artisan pickles.  Each recipe is prepared with utmost care in small batches from local, seasonal and all natural ingredients to ensure the height of freshness and flavor. Chef DeMarco and her team supports responsible stewardship and local, sustainable agriculture in the Western Carolina region.  You can visit the Copper Pot & Wooden Spoon storefront at 449 A Pigeon Street Waynesville, NC 28786

OR

buy from the Online store.  If you have trouble deciding (we sure do), you can give your food lover a beautifully packaged gift assortment!

Dilly Beans, Courtesy of Chef Jessica DeMarco of Copper Pot & Wooden Spoon

Sunburst Trout is a third generation family owned and operated farm right here in Haywood County.  Sunburst Trout are sustainably raised in waters pouring from the Shining Rock Wilderness.  From their award-winning caviar to smoked trout dip to beautiful fillets, Sunburst Trout's uniquely local products will keep your gift recipient happy long after the ornaments come down!  A variety of products are available at Sunburst Market in downtown Waynesville and in their Online store.

Sally Eason of Sunburst Trout (Photo courtesy of Forbes Magazine)

---
Heritage, Art, Function & Form
Visit our web directory for a complete list of specialty retail partners.  Here are a few highlights and gift ideas!