August 21-24 & August 28-31, 2014

Full list of

Food Crawl

partners, flavors,


&

event calendar  CLICK HERE!

---
Enjoy the Highlights of Harvest Season at Buy Haywood's
"Uniquely Local Food Crawl"
The only thing better than reaping the tasty rewards of another bountiful harvest season in the Great Smoky Mountains is sharing every delicious bite with visitors and locals alike!
Buy Haywood is proud to announce our
"Uniquely Local Food Crawl"
as the premier culinary event of the summer season!
Sample Haywood's fresh "Farm to Table" flavors!
---
 What is a local food crawl?
A "Farm to Table" Epicurean Adventure—
from innovative small plates to homegrown libations!
---
How does it work?
Participating "Farm to Table" partners create specialty menu items.
Over the two long weekends, the event will crisscross Haywood County, North Carolina, highlighting the rich farming & agricultural heritage of the community while offering a variety of epicurean adventures.
Visitors near & far will find that Haywood County is a vibrant & diverse destination for foodies of all ages—well worth a gold star on the regional gastronomy map!
Food Crawlers can treat the event like a "progressive dinner" and visit multiple establishments in a single CRAWL—or dine over several days.
Payment occurs at each individual crawl destination—
so there are no billing surprises!
---
Enter to win a Uniquely Local prize at each "crawl" destination!
The more you "crawl" the greater your chances to win!

(DRAWING FOR PRIZES – TUESDAY, SEPTEMBER 9, 2014)

Buy Haywood's

vibrant

community of

agripreneurs

have stepped up to offer a selection of

uniquely local

prizes including—
"Hummingbird" by Jo Kelley

($250 value)
—Description—
6 x 6, original oil with a hummingbird inspired by Kelley's love of the outdoors.

The soft-edged, expressive paintings of Jo Ridge Kelley are as much about emotional connection as they are about visual expression.  Since childhood, growing up on a dairy farm in rural North Carolina, Kelley has felt a deep rooted bond with nature's perennial beauty and power.  Today, as a talented and accomplished artist, every stroke of her paintbrush or palette knife is flowing with this lifelong passion as evidenced by the bold and powerful color harmonies and soothing organic textures.
"Chambers Farm" autographed Ed Kelley Photograph

($145 value)



—Description—
Hand-signed, 13×19 archival quality, fine art photograph of Chambers Family Farm located in the historic Bethel community.
Ed Kelley still lives near his birthplace in the North Carolina mountains, and loves exploring the Southern Appalachians.  In developing a knowledge of their nature and an appreciation of their intense beauty, he turned to photography as both a way to learn and a way to teach about them.  As a young man, he went through many rolls of film, shooting color slides and developed his own black/white in the darkroom.  After many years of pursuing other artistic ventures, he has come full circle.
In the last few years, Ed has traveled widely to many natural places in the U.S.-Canada amassing a portfolio of photographs inspiring to the eye and soul.  He has worked hard to hone his photographic skills both in the field and in the digital darkroom.  Each of his images are created by a melding of his creative drive with an understanding of technology, nature, art and light.  Be inspired!
Seasonal Pantry: Half-year Membership from Copper Pot & Wooden Spoon

($98 value)



—Description—
Enjoy or share your favorite Copper Pot & Wooden Spoon preserves & pickles all year round!
The Seasonal Pantry Membership Prize brings a box of three new delectable flavors every other month for half a year.  Each hand-printed gift box contains an Artisan Pickle, Sweet Jam & Savory Spread nestled in wood shavings and tied with raffia ribbon.  Pantry Members will also have the opportunity to sample new products, receive recipe cards featuring Copper Pot & Wooden Spoon Preserves, and enjoy exclusive discounts and special offers on future orders.
Pickler's Pantry Collection: Half-year Membership from Copper Pot & Wooden Spoon

($85 value)



—Description—
Perfect for the Pickle Connoisseur—this Pantry Membership collection includes a broad assortment of Copper Pot & Wooden Spoon crisp & crunchy pickled goods!
The Pickler's Pantry Assortment Prize brings a box of new delectable flavors every other month for half a year!  Each hand-printed gift box contains three Artisan Pickle varieties packed in wood shavings & tied with a raffia ribbon.  Pantry Members will also have the opportunity to sample new products, receive recipe cards featuring Copper Pot & Wooden Spoon preserves, and enjoy exclusive discounts and special offers on future orders.
Gift Certificate from Frogs Leap Public House


($50 value)



—Description—

 Local First : People Matter Most : Seasonal is Sensible :
Quality Rules : Authenticity Governs : Taste Trumps : Pretense Stinks : Healthy Tastes Better : Prudence Sustains
Frog's Leap Public House is an award-winning "Farm to Table" restaurant located in historic downtown Waynesville.  Chef Kaighn B. Raymond and team offers a "Unique Farm to Fork Experience: Innovative Southern Food with a Local Backbone & Home Grown Libations."   Menus change frequently to support the seasonality of local ingredients.
Be sure to look for the market board hanging with distinction above the dining area, highlighting the local farms and agripreneurs that Chef Kaighn has carefully curated to support his deliciously local menu items!

Gift Certificate from The Chef's Table


($50 value)
—Description—

Menus feature local produce, cheeses, Sunburst Trout products & select items from their own 12-acre farm!
Nestled unassumingly on a side street in downtown Waynesville, North Carolina, the legendary Chef's Table restaurant is a celebration of the best wine country cuisine in the Great Smoky Mountains.
The restaurant started with the concept of cooking with fresh, seasonal, local foods and produce—pairing these exceptional recipes with wines from around the world.  Make plans to enjoy the beauty of the Great Smoky Mountains and Chef Josh's magnificent wine country cuisine!
Gift Certificate from J Arthur's Restaurant


($50 value)
—Description—

Over 27 seasons in Western North Carolina,
J. Arthur's is well known for their hospitality, warmth, and excellence in food and service.
Famous for their gorgonzola cheese salad, slow roasted prime rib, and mouth-watering desserts, J. Arthur's is "the place to dine" in Maggie Valley!
Sterling Silver "Tree of Life" Pendant
by Keri Anna Hollifield of Earthstar Studio

($50 value)
—Description—
Earthstar jewelry comes from natural inspiration.  Many designs are inspired by trees, flowers, birds, and mountains that the artist (Keri Anna Hollifield) sees in her daily life.  Each piece of jewelry is handcrafted in sterling silver, 14k gold-filled, or copper by the artist Keri Hollifield.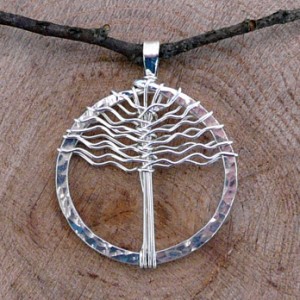 For me, my tree design represents my love and respect for all of nature. Let this tree be a symbol of your own meaning for the Tree of Life. Each tree is handmade with love by me, to be worn with love by you!
I have hand-formed, hammered and wrapped sterling silver wire to make this tree pendant. It is 1 3/8″ tall, 1 1/16″ wide.  Because I make each one by hand, they are all slightly different and one-of-a-kind.
– Kerri Anna Hollifield, Earthstar Studio
5, One-Year Subscriptions to Smoky Mountain Living Magazine

(Each @ $25 value)
—Description—

Smoky Mountain Living covers the southern Appalachians and celebrates the area's environmental riches, its people, culture, music, arts, history, and special places. Each issue brings the Appalachians to life.
Published six times each year, SML is a magazine for those who want to learn more about where they live and those who want to stay in touch with where they love.
Gift Certificate from Kanini's

($25 value)



—Description—
All meals are homemade using the freshest ingredients. We are a "made from scratch" kitchen that uses ORGANIC ingredients when possible and strongly supports the LOCAL FOOD & FARM initiatives in Haywood County.
Kanini's
is located in historic downtown Waynesville.  The word Kanini (kuh-NEE-nee) is an African word, or more specifically a Kenyan term of endearment, used to describe a woman.  In September of 2007, both owners (Erin Patton & Jen Leichssenring) traveled to Kenya, where ideas for creating a local business around convenient & nutritious food was born.     Kanini's offers dining, catering and take-out meals made from the freshest local ingredients.
4, Gift Certificates from Coffee Cup Cafe
(Each @ $25 value)
—Description—
Coffee Cup Cafe proudly serves fresh homemade dishes that incorporate locally grown fruits, vegetables, meats and other farm products as much as possible (including some from our very own H & K Farms Hop Yard).
The Coffee Cup Cafe dishes up fresh made breakfast and lunch to local working folks and tourists in the Western North Carolina area. The restaurant strives to provide customers with a place to taste and enjoy a variety of coffee drinks, sandwiches, soups, salads, and desserts in an atmosphere that caters to quality & service!
Gift Certificate from Frog Level Brewing Company
($10 value + T Shirt)
—Description—
Haywood's first craft microbrewery—
offering flights, pints and "to go" containers!
Frog Level Brewing Company  is located in the historic Frog Level community of downtown Waynesville and has some of the smoothest craft beer to touch your tongue.  From the bite of their IPA to the smokiness of their Scotch Ale and other fine recipes in between, you can get a pint of any of these flavors to drink in our tasting room or get a Croaker (2 pints) or a Growler (4 pints) to take with you.  If you're hungry, bring your own food and enjoy it with any of our fine handcrafted brews inside or on the back deck overlooking the flowing creek.  The eclectic atmosphere creates an unforgettable uniquely local experience!
---
 —Food Crawl Destinations Include—
Haywood's Historic Farmers Market
The Mahogany House Art Gallery and Studios
Mountain Cooking Club with Chef Ricardo Fernandez
Pasquale's Mediterranean-Italian Restaurant
Waynesville's Original Tailgate Market
 Full list of

Food Crawl

partners, flavors,


&

event calendar  CLICK HERE!

---

 Our media partners are excited to Crawl!
Visit RomanticAsheville.com, our Uniquely Local Food Crawl has been highlighted as a Special Foodie Weekend Event under the Top 12 Foodie Favorites Asheville!
Our friends at Visit NC Smokies have featured our Crawl on their "What to do in the Smokies" event calendar!
Our Crawl is featured in the Small Bites section of Mountain Xpress!
WNC Magazine shows our Crawl some "local love" on their Events Calendar!
Be sure to check out our upcoming print ad in the August/September issue of Smoky Mountain Living magazine.
Look for our Food Crawl as an upcoming feature in the online event calendars and special highlights in the following publications: 
Carolina Home & Garden, Bold Life, The Laurel of Asheville, Sophie Magazine, WNC Parent, Food Enthusiast, Events in WNC.com, Carolina Country, BoomNC.com, Asheville Citizen-Times
---

 While you are in town, be sure to pick up a copy of Buy Haywood's Find your Adventure! 2014 Agritourism Guide to visit:
Farmer & Tailgate Markets • Award Winning "Farm to Table" Restaurants • Uniquely Local Jams, Jellies, Savory Spreads & Artisan Pickles • Specialty Retail Shops • Rustic Hospitality Venues • Heritage Festivals • U Pick Farms • Historic Preservation Sites • Educational Opportunities for all Ages • 2014 Calendar of farm-related events and activities!
A downloadable PDF is available  HERE or get a paper copy at participating distribution partner locations listed on our website.
The Guide is an invitation to explore Haywood County, North Carolina's, vibrant community of agripreneurs – where heritage meets modern convenience.
For more information, contact Tina Masciarelli, Buy Haywood Project Coordinator, at 828.734.9574 or ttmascia@alumni.unca.edu
Photo courtesy of Chef Kaighn Raymond
of Frogs Leap Public House