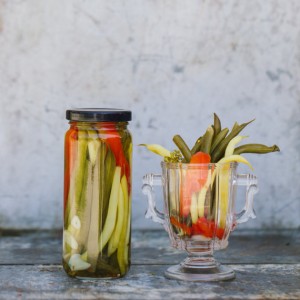 Contact: Jessica DeMarco,
(828) 593-0501
449A Pigeon Street
Waynesville NC 28786
Haywood County
Copper Pot & Wooden Spoon, specializes in handcrafted,
small-batch, all natural jams, pickles and artisan foods.  We support
local sustainable agriculture and all of our products are made using only the freshest produce from local area farms and our own garden patch in Waynesville, NC.
Visit our new store front at 449A Pigeon Street in downtown Waynesville: Tues-Fri, 10am-3pm
Or, you can find us at the Historic Haywood Farmers Market on Wednesdays and Saturdays through the summer market season.
We follow traditional culinary methods and each recipe is produced in small batches to ensure the height of flavor and seasonal freshness is preserved in each jar.  Made with high quality ingredients, without the unneccesary use of commercial pectin and excess sugar, our jams boast a rich flavor and soft spreadable texture lacking in many jams on the market today.
We will begin the season this May with our Strawberry-Rhubarb jam, by the end of June we hope to offer Seedless Blackberry and Raspberry, Spicy Dill Pickles, Sweet Bread & Butters and Dilly Beans with Pickled Peppers.  In the late summer and fall we will feature savory spreads such as Flame Roasted Pepper with Peach, and Oven Roasted Tomato Marmalade.
Copper Pot & Wooden Spoon is a FDA certified producer, all of our products are handcrafted by agripreneur, Chef Jessica DeMarco, in a NCDA inspected and approved facility.
Enjoy!
Jessica DeMarco