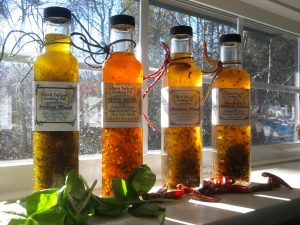 Natural Gourmet

As well as on our online site, our oils can be found at Country Traditions, 73 Webster Street, Dillsboro NC, and at the Historical Haywood Farmers Market in Waynesville, NC. We are also always looking for new shops to carry our oils, making them readily available for purchase and supporting local business.
About Us: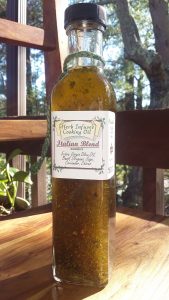 We began making our Herb Infused Cooking Oils in 2011 in the quaint town of Mills River, North Carolina. We sold at the local farmers markets and soon found a loyal customer base. Since then our oils have had widespread approval, appealing to gourmet chefs and cooking novices alike. We are proud to offer a product that both pleases the palate and makes daily cooking a pleasure.
When we first began creating our herb infused oils, our main goal was to help make daily cooking a pleasure again. We know that having every spice you need on hand can be a hassle when you are trying a new recipe and most infused oils only contain one or two herbs and flavors. Our blends are all natural and contain every herb and spice you need to make great, easy meals every night of the week. And with seven blends the possibilities and endless. Check out our website for more information on each blend along with recipe ideas. New tasty ideas can also be found on our facebook page – https://www.facebook.com/herbblendedoils/ .