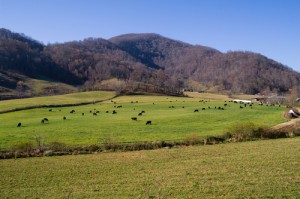 Ava & Neal Morgan
321 Morgan Branch Road
Leicester, NC  28748
Phone: 828-691-1728
We are a family-owned and operated, multi-generational beef cattle farm nestled in the beautiful Blue Ridge mountains—located in Leicester, NC.  Our family is dedicated to raising flavorful, tender, naturally produced beef with no growth hormones ever!
Our healthy, happy beef cattle graze over 150 acres of lush pastures and eat feed produced right from our own fields.  Our cattle are born into the Shady Place Farm herd, raised here and finished here on grass, hay and corn that is also grown on the farm.  Our cattle are also given a "treat" of local brewer's grains.
You will taste the difference a lot of love and generations of experience can make!  Contact us for purchasing information.