August is for Al Fresco Dining and Sunsets
The summer growing season is in full swing this month making August the perfect time for al fresco dining and spectacular sunsets. Take your passion for great flavors on the road by turning farm fresh ingredients into the perfect finger food. Local farmers markets, roadside stands and on farm markets have a wide variety of products available.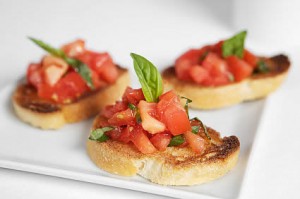 Try making Caprese Bites with farm fresh tomatoes, basil, local mozzarella, served on artisanal bread.
Slice bread into thick pieces. Top each with a slice of tomato, a single leaf of basil and a wedge of fresh mozzarella cheese. Drizzle with extra virgin olive oil, a splash of aged Balsamic vinegar and pinch of sea salt and fresh ground pepper (to taste). Place a toothpick through each little bite to hold it together and wrap in your favorite on-the-go container. Grab a cold six pack of Waynesville Soda Jerks (mixed flavors) and a handful of colorful straws, a picnic blanket, and you've got the perfect culinary treat to enjoy a spectacular sunset.
For more farm fresh recipes available, market and roadside stand locations, grab a copy of our Find your Adventure! 2016 Agritourism Guide or, download a digital copy.
Want an outstanding farm-to-table meal prepared for you? Visit one of our Local Flavor spots. Click here for a full listing of Uniquely Local Farm-to-Table partners.
Don't miss all the special events in Haywood. Visit our Special Events calendar regularly for updates!