Cooking Local Together Project
Featured Chef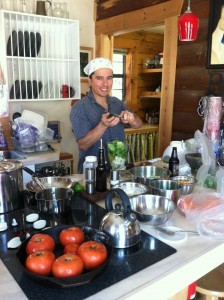 Juan Pablo Peña Mejia is a resident of Haywood County who is passionate about local food and healthy living. His passion for food comes from learning at an early age to cook with his mother and grandmother various types of food from all around the world. His favorite thing to cook for his friends and family are salsas! "The use of fresh ingredients and mixture of textures and consistencies brings infinite combinations to the table" Juan says. Adapting recipes from his native country (Mexico) to the ingredients available here in the mountains of Western North Carolina is a fun challenge he is always happy to tackle.
Juan is also a fine jeweler and artist who dabbles in Goldsmith, silversmith and oil painting. His passion for the mountains and simple living are reflected in his work.
To see some of his work go to : penajewelry.com or visit his booth in several festivals throughout the area. In the link you will find a festival and event schedule.