Nestled in the mountains of western North Carolina, Haywood County is less than a day's drive from many major urban areas in the southeastern United States with primary access via Interstate 40.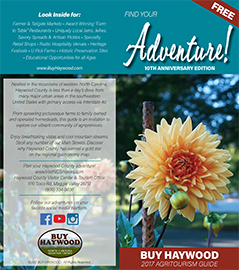 From sprawling picturesque farms to family-owned and operated homesteads, our agritourism guide is an invitation to explore our vibrant community of agripreneurs. Enjoy breathtaking vistas and cool mountain streams. Stroll any number of our Main Streets. Discover why Haywood County has earned a gold star on the regional gastronomy map!
Get your FREE copy of Buy Haywood's Find your Adventure! 2017 Agritourism Guide: 10th Anniversary Edition, more information here.
Plan your Haywood County adventure with Visit NC Smokies. Stop by the Haywood County Visitor Center & Tourism Office at 1110 Soco Rd, Maggie Valley 28751. The friendly staff can be reached at 800.334.9036
Photo courtesy of VisitNCSmokies