Growing up in Haywood County, I have aquired a wealth of sage wisdom about the local growing season—starting with my grandparents (who were both prolific gardeners having come from agricultural stock) to my master gardener certification achieved almost ten years ago.  Any local will tell you that spring in Western North Carolina can be unpredictable.
Warm summer-like conditions can turn to snow flurries and killing frost in 24 hours time.  When the true winter months are behind us, dogwood winter, blackberry winter and the other colloquial expressions used in south to mark the unseasonable cold can sometimes taunt locals well into June.
To beat the Blackberry-Winter Blues, we have a fantastic recipe for Pub-Style Pot Roast using Frog Level Brewing Company's award-winning Tadpole Porter, garden fresh herbs & local beef.
If you missed celebrating NC Beer Month with Frog Level Brewing Company in April, our Pub-Style Pot Roast recipe (listed below) is a great reason to stop in and sample some of the smoothest craft beer ever to tease your palatte.  You can get a pint of the various microbrews on tap to enjoy in the tasting room or on the riverside patio—or purchase a Croaker (2 pints) or a Growler (4 pints) to take home.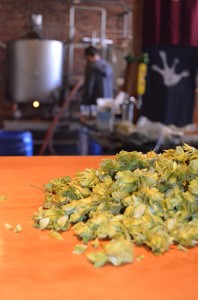 Frog Level Brewing Company became a Buy Haywood Partner this year with the release of their Frog P American Pale Ale, brewed with local hops grown by H&K Farms Hop Yard.
Enjoy this photo album from brewing day that celebrates of the journey from field to Historic Frog Level!
— Tina Masciarelli, Buy Haywood Project Coorinator
---
This recipe for Pub-Style Pot Roast made with Frog Level Brewing Company's Tadpole Porter, garden fresh herbs and Haywood County beef is sure to warm you up and put a smile on your face regardless of what winter-blues descend!
Visit our online directory for local beef & other ingredients!
(Serves 4-6)
Ingredients
4 pounds local chuck roast, cut into 1 ½ inch cubes
3 stalks celery, diced
4 carrots, chopped
4 sprigs fresh thyme & rosemary, finely chopped
2 medium onions, roughly chopped
4 cloves garlic, crushed
3 Tablespoons tomato paste
1 ½ cups Tadpole Porter (or stout)
Low sodium chicken or beef stock, at least 4 cups
Salt & Pepper
Flour
Extra Virgin Olive Oil
Steps of Preparation
Preheat oven to 350
Dredge roast in flour seasoned with salt and pepper.  Add to dutch oven with hot EVOO and brown on all sides.  Remove and set aside.
Add carrots, celery, onions, and stir to loosen brown bits.  Add salt and pepper.  After 5 minutes, add tomato paste, herbs and garlic. Cook for 2 more minutes.
Add 1 ½ cups porter and stir well.  Add beef (and any liquid that came from the beef) and chicken stock until meat and vegetables are covered with liquid.  Add salt and pepper.
Bring to a simmer and cover.  Place in preheated oven.  Check in about 1 ½ – 2 ½ hours.  Meat should be able to be cut with the side of a spoon.  Taste for salt and pepper, adjust if needed.  Skim fat if desired using a paper towel.
Serve over mashed potatoes or toast,
garnish with fresh chopped parsley.
Note: If you don't have a dutch oven:  At step 6, transfer mixture to a crock pot or stove top.  Keep covered and check time according to cooking method.
Cook. Share. Enjoy!
Recipe courtesy of Alex Masciarelli,
Local Educator & Buy Haywood Volunteer